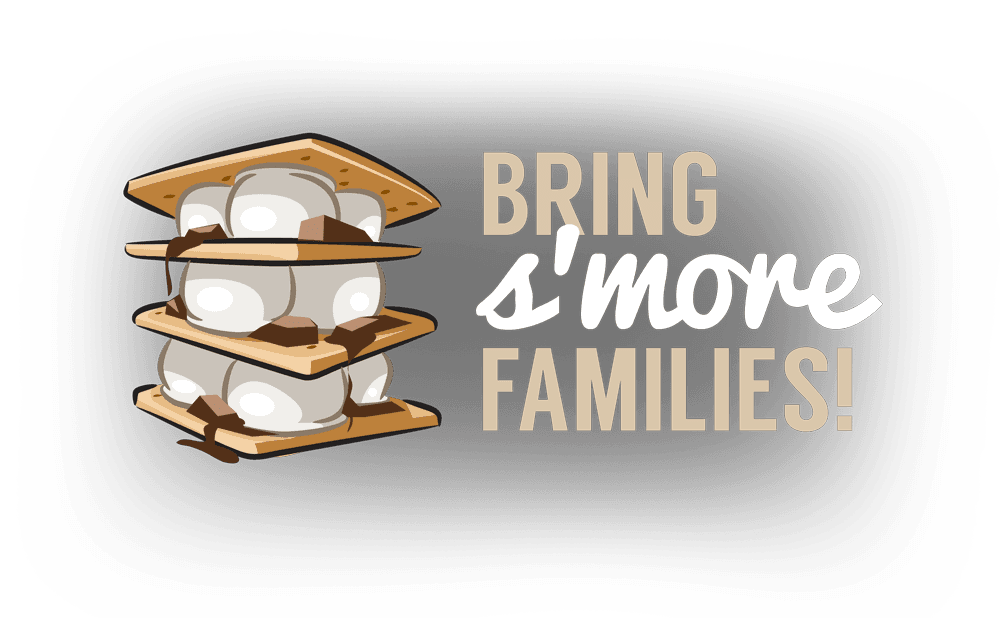 Love Family Camp and want to enjoy it with friends?
New families receive complimentary registration while you receive a 50% off yours! Sound appetizing? Check out our s'mores ingredients below!
New Family
New families come free. That's $50/person, complimentary. 
Host Family
You receive 50% off your registration when your friends register.
Delicious
Enjoy camp that much s'more!
What a sweet deal.
The Sweet
New families (hereafter called "S'more Families") are defined as at least two individuals currently living under the same roof, including a head of house, who have never attended or been on campus during an ALERT Family Camp.
S'more Families may purchase lodging and meals if desired, but Family Camp registration will be free.
2+ people

Must include the head of house

Neither parent can have ever attended or been on campus during an ALERT Family Camp. (If your account does not qualify for this promotion, the discount will be removed and the total balance will be due. If you are unsure if you are eligible, please call us at 903-636-9201.)

Host families (those inviting the S'more Family) cannot currently reside at the same address as the S'more Family.

S'more families must register online with the S'more Host's unique coupon code. Discounts will not be applied after registration.
and the sticky
The "Host Family" (who invited the "S'more Family") must register before their friends to receive 50% off their own Family Camp Registration. Please note that this discount excludes meals and lodging and applies to your registration costs only.
Returning families, register online and wait for your unique S'more Host Coupon Code to be emailed to you. (Please allow a few days for this code to be created and sent your way.) 

P

ass the code to as many families as you'd like! 

When your friends sign up using your code, we'll process your one-time 50% refund! (Additional registrations added to your account after this discount will not be eligible for this promotion. If multiple families use your code—yay!—please note that your discount will not increase, though you will be more likely to secure your 50% discount in the unfortunate case that one of your invited families is unable to attend.)

The "Host Family" makes sure their friends feel connected and included at Family Camp. Please consider inviting your S'more family to your campsite and introducing them to others.

This S'more Family Promotional ends Sept. 29, 2023. Your friends must register by this date to receive the discount.

If your S'more Family doesn't end up coming to ALERT Family Camp, your 50% discount will be removed and the remaining balance will be due. Hopefully they're able to come next year!